| Item ID | Starting Bid | Bids | Current Bid |
| --- | --- | --- | --- |
| 65020 | $20.00 | 0 | $0.00 |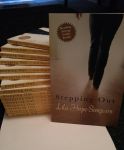 Are you part of a book club? Trying to fill a library? We have a set of 64 of Lila Hope-Simpson's novel Stepping Out, which includes a Reading Group Guide in each book!
Stepping Out (Three Dogs Press 2013) is the story of Lydia, a quirky but lovable woman who spontaneously decides to walk away from her old life and begin a new one. With no idea where she will go or how she will get there, Lydia follows her instincts. And so begins the journey of Stepping Out.
From small town Nova Scotia to the vibrant streets of Montreal, Lydia learns to fend for herself, finding support and unconditional love where she least expects it. But can Lydia truly embark on a new life without confronting her past?
http://thechronicleherald.ca/community/annapolis-valley/1149507-valley-author-staying-busy
http://www.goodreads.com/book/show/22734850-stepping-out