| Item ID | Starting Bid | Bids | Current Bid |
| --- | --- | --- | --- |
| 65389 | $120.00 | 7 | $178.00 |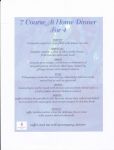 Want to impress your friends or family with a gorgeous dinner party?
Check out our AMAZING Seven Course Dinner at Home for Four, provided by a talented local Chef!
See image for delicious menu!
*The dinner is at the home of the bidder.
*Most dishes will be prepared in advance so no cooking will take place at the house
*Place settings, cutlery, and serving items will be provided.
*Alcoholic drinks are not included, but the chef/caterer can discuss appropriate accompaniments if desired. Coffee and tea are included in the menu.
*Due to logistics, the geographic area for providing this dinner must be in Halifax/Dartmouth/Bedford/Lower Sackville/Cole Harbour/Eastern Passage.
About Your Amazing Chef!:
Vickie comes from a family of great cooks; her Mom held several excellent cooking positions and was the cook for the Ukrainian Catholic Bishop of Edmonton. Vickie's brother George is well known as a versatile chef, and all of her sisters are great cooks in their own right. Food plays a large and important role in Ukrainian tradition, especially at Easter and Christmas, so the pursuit of excellence in cooking is represented in the traditional dishes. Vickie also loves the challenge of contemporary cooking and always strives for flavour, presentation and variety.
Vickie started her restaurant preparation and cooking when working in a Gasthaus in Southern Germany where she and her husband were stationed for four years. Every item on the menu was prepared from scratch and all dishes were very tasty and always well received. She attended cooking school at NCSS in Middleton, and upon graduation was employed at Canadian Forces Base Cornwallis in the Annapolis Valley, at the Officers and other Messes in CFB Borden, and then at CFB Stadacona in Halifax.
Since retirement in 2008 Vickie has made her mark with dinner parties at home with friends and neighbours, who always look forward to the food and company. This venture into catering at the top bidder's home is a way of providing funding to the ElderDog program, which she and her husband support constantly. All proceeds go to the ElderDog program; Vickie's time and expertise, and the assistance of dinner helpers, are all voluntary.
Bon Appetite!